Home
> Products >Docany JPG to PDF Converter
Award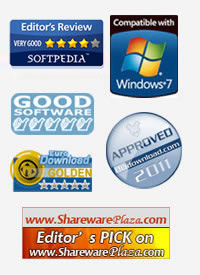 Testimonials
"Simple, easy to use application, is well laid out and works quite efficiently and quickly. This is a 5 star candidate."
- Sandra Seidel
"It is a very impressive piece of software."
- Jillian Exton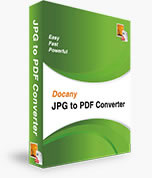 Docany JPG to PDF Converter
Batch convert a large number of image formats such as JPG, GIF, PNG, BMP, TIFF and so on, into PDF file.
Version: 1.0.1
Platform: Windows 7/2000/XP/Vista
$29.90

$19.90
Getting Started
PDF files have become the quite popular file format in recent years, it would helpful to have a tool that can convert JPG to PDF directly. Docany JPG to PDF Converter is a quick and easy-to-use converter software designed for converting batch of images, photos into PDF documents once time with a few mouse clicks, you can also convert each JPG file into a separate PDF file. It supports up to dozens of commonly used image formats such as TIF, JPG, GIF, PNG, BMP and so on.
Download Docany JPG to PDF Converter, install and launch this program.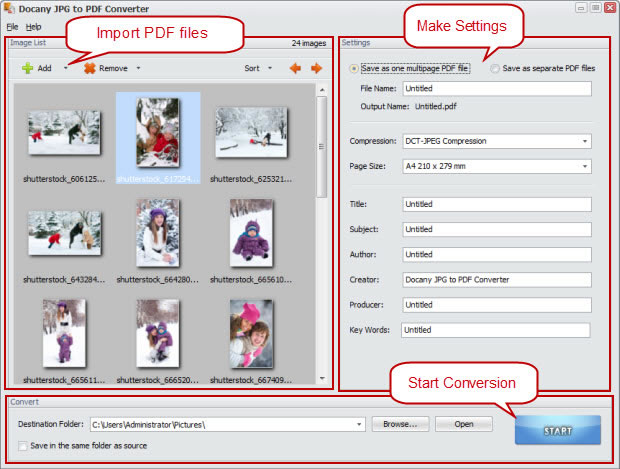 Step 1 – Add Images
Browse for image files by pressing Add or Add Folder.
To add images you need to click Add button to add the target images to the program directly.
To add folder with images you need toclick the black arrow next to the Add button and select the Add Folder option.
Step 2 – Make Settings
You could select your output files in one document or in separate document, and the output name would make change with your choice.
You will be able to select the needed compression and page size that had preset as you want.
The document title, subject, author and keywords could also be set.
If you select your output files in one document, you could set the necessary order of your images by clicking the up arrow or down arrow on the top right of the window to reach the desired position.
Step 3 – Convert Images
After finished making settings, Click Browse button to choose a destination folder.
Click on the Convert button to begin the conversion process. The taken time would depend on the size of the files to convert and the number of files for conversion.
That's all! The converted images can be found in the destination folder. You can use them according to your needs.